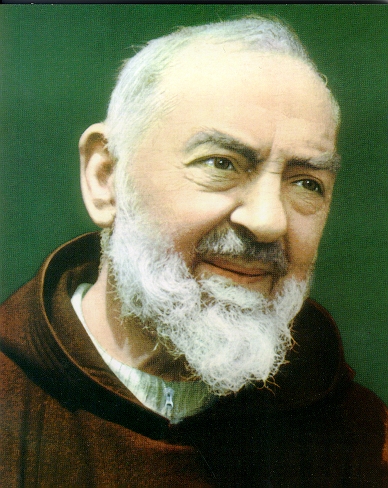 St. Padre Pio (that guy who looks a lot like Obiwan Kenobi, according to my students) constantly referred to his Rosary beads as his weapon: "The Rosary is my weapon" he once said. As Catholics we have access to an arsenal of weapons (e.g. the sacraments) to fend off attacks projected by ol' "pointy tail", the devil. This arsenal reminds me of that scene in the movie The Matrix, where the Trinity and Neo characters are "jacked-up" and uploaded into a virtual room. Neo says that he wants guns and walla! Racks upon racks of guns and weaponry appear:
All that firepower from those guns at Neo and Trinity's disposal cannot even begin to compare to the potency the Rosary has a spiritual weapon. Just have a look at what others have said about the power of the Rosary:
"The holy Rosary is a powerful weapon. Use it with confidence and you'll be amazed at the results." - St. Josemaria Escriva
"A powerful means of renewing our courage will undoubtedly be found in the Holy Rosary." - Pope Leo XIII
"This prayer is perfect because of the praise it offers, because of the lessons it imparts, because of the graces it obtains and because of the triumphs it achieves." - Pope Benedict XV
"We do not hesitate to affirm again publicly that we put great confidence in the Holy Rosary for the healing of evils which afflict our times." - Pope Pius XII
"The Rosary ... represents a most effective means of fostering among the faithful that commitment to the contemplation of the Christian mystery" - Pope John Paul II
"In the current world ... this prayer helps to put Christ at the center, as the Virgin did, who meditated within all that was said about her Son, and also what he did and said." - Pope Benedict XVI
"The greatest method of praying is to pray the Rosary." - St. Francis de Sales
"If you say the Rosary faithfully until death, I assure you that in spite of the gravity of your sins, you shall receive a never-fading crown of glory. Even if you are on the brink of damnation, even if you have one foot in Hell, even if you have sold your soul to the devil as sorcerers do who practice black magic, and even if you are a heretic as obstinate as a devil, sooner or later you will be converted and will amend your life and save your soul, if and mark well what I say -- if you say the Holy Rosary devoutly every day until death for the purpose of knowing the truth and obtaining contrition and pardon of your sins." - St. Louis de Montfort
"If there were one million families praying the Rosary every day, the entire world would be saved." - Pope St. Pius X
"There is no surer means of calling down God's blessing upon the family than the daily recitation of the Rosary." - Pope Pius XII
"The Rosary is a school for learning true Christian perfection." - Pope John XXIII
"No one can live continually in sin and continue to say the Rosary. Either he will give up the sin or he will give up the Rosary" - Bishop Patrick Boyle
"If our age in its pride laughs at and rejects Our Lady's Rosary, a countless legion of the most saintly men of every age and of every condition have not only held it most dear and have most piously recited it but have also used it at all times as a most powerful weapon to overcome the devil, to preserve the purity of their lives, to acquire virtue more zealously, in a word, to promote peace among men." - Pope Pius XI
* * * * *
I remember many years ago as an adolescent praying the Rosary with my mother and two brothers every night shortly after my parents separated and divorced. I'll be honest: while I had an appreciation for the prayer back then, due to the immaturity associated with my age and my mother's insistence on praying it every night, I didn't like praying the Rosary. In fact, I'd even go as far to say that I didn't really "pray" the Rosary back then, no. Back then I was only saying it just to get through it. As an adolescent I just wanted to get the prayer over with so I could watch television or whatever.
As one gets older you learn to appreciate more those things that your parents did for you growing up. My mother sitting us down every night and getting us to pray the Rosary was one of the best things she could ever have done for us. Why am I saying this now? I recognise now the blessings I had and have in my life and how I've always felt that I've been "looked after" through even the darkest hours of my life, where I've not quite lived-up to Christ-like standards. By the grace of God and through constant intercession, I've overcome those darker days.
I can confidently say that I am the man I am today because of the power of the Rosary. I believe life would have taken a very different turn and I would not be where I am today or have the faith that I have today had it not been, for the most part, due to constant prayer and my mother's fervency. This is what has inspired me to pray the Rosary today: for my wife, my children, my family, my work, and the people I meet.
The Rosary truly is a powerful weapon, not only as a tool to overcome sin and vices, but to help us meditate on the scriptures and the life, death, and resurrection of Christ. Every Catholic should be praying the Rosary. You will see what a difference the prayer makes in your life.
How to pray the Rosary
"The rosary is the book of the blind, where souls see and there enact the greatest drama of love the world has ever known; it is the book of the simple, which initiates them into mysteries and knowledge more satisfying than the education of other men; it is the book of the aged, whose eyes close upon the shadow of this world, and open on the substance of the next. The power of the rosary is beyond description." - Archbishop Fulton J. Sheen